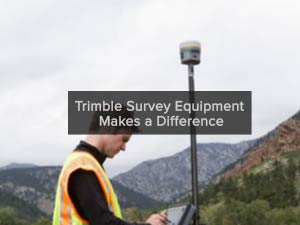 When you are out in the field, the quality of your equipment is important. You want to be sure that your survey tools are accurate and reliable. Trimble survey equipment features best-in-breed technologies including GPS, laser, optical and inertial technologies with application software and wireless communications to provide complete commercial solutions. The quality of their products is proven and they are currently being used in over 150 countries. They've been making surveyors lives easier for over 35 years, which speaks to the quality of Trimble survey equipment.
Trimble R10
Every design decision that went into making the Trimble R10 had one aim in mind - to make the smallest and lightest receiver on the market. Its small size was particularly made possible by the design of the GNSS antenna, which is housed in a Thixomolded case, a third of the weight of aluminum. Some of the other key features of the Trimble R10 include:
Trimble xFill, which will extend the RTK positioning for a few minutes when the RTK correction stream is unavailable.
HD-GNSS, designed to give more accurate error estimates than traditional GNSS, particularly in challenging environments.
Trimble Surepoint, this attitude-sensing technology reduces the occupation time required to collect survey measurements. It also makes the workflow more intuitive.
Trimble 360, which will support signals from other GNSS constellations.
In summary, the Trimble R10 lets you survey points, which were previously inaccessible and record measurements, which are faster and safer than ever before.
Trimble Total Station
The Trimble Total Station is available in a number of different mechanical or autolock-robotic models. The model you choose will be dependent on the complexity of the job in hand. The range of robotic options begins with the S5 and this is a great all-around Trimble Total Station. Key features include:
Trimble DR Plus EDM, allows you to measure further and faster.
Locate2Protect, know the location of your total stations at all times
Integration with the Trimble V10 Imaging Rover and GNSS receivers is seamless
The Trimble Total Station is a complete solution for field to office, allowing you to capture and process data quickly.
Why AGS for Trimble
Here at AGS, we have been selling Trimble since 1991. We know the products inside-out and most importantly, know how to support you in the field when you are using them. We have a combined experience of over 135 years and are dedicated to providing you the best possible outcomes.
Our 24/7 Support Guarantee
We understand that helping you choose the right product is only half the job done. We are committed to helping you utilize your Trimble survey equipment in the field effectively. With our 24/7 technical support guarantee, you will always have an expert available a phone call away if you run into any issues.
Emergency Loan Equipment, Next Day
If you do run into any technical issues with your Trimble survey equipment, we will get a loaner unit sent out to you overnight to ensure your operation can continue (some restrictions may apply). So if you would like further information on any Trimble survey equipment, including the Trimble R10 or the Trimble Total Station, don't hesitate to get in touch today.