Total Stations have become the workhorse and main instrument for surveyors. They provide a suite of functionality to help the user stay fast and efficient.
Most total stations have an electronic distance measuring device (EDM), a digital theodolite and lots of computing horsepower and memory
.
This powerful grouping of features gives surveyors the ability to measure vertical and horizontal angles, slope distances and more
.
Today we're taking a look at some of the benefits of using Topcon Total Stations on your next job.
Topcon Total Stations
From Topcon
"Patented, best-in-class robotic prism tracking technology from Topcon rejects false positives and remains locked onto the prism so you can focus on the job at hand. And our unique Hybrid Technology delivers the ultimate in non-stop productivity by combining GNSS positioning to quickly regain lock, and maintain profit."
"With the most powerful, accurate EDM in the industry, Topcon total stations return consistent results every time. Achieve multiple angular accuracy options even at 0.5 arc-seconds, and benefit from precision you can trust."
"Our decades-long history with total station design and innovation guarantees a rugged, durable instrument that performs proudly. And as a result of Topcon auto-collimating technology, you'll enjoy repeatable accuracy throughout your project workflow."

Topcon Total Station
Benefits
:
Local Service and Support provided by AGS 24/7,

FREE

Re-establish prism lock in seconds with a single button click

Small, lightweight, and

FAST

TSshield - Reliable security, asset tracking,

remotely

disable equipment if stolen

Included warranty coverage of 5 years on ultra sonic motors and 3 years on instrument.
Top 3 Tips for Using Any Total Station
Always ensure that a total station's tripod is on the most stable footing possible. This helps prevent movement, avoid accidents, and get the most accurate measurements.

Proper battery care is important. Always remove the battery when the station is not in use. Store it in a dry place,

fully

discharged. This protects the station and maximizes battery life.

Never carry a tripod with a total station attached. Always remove the total station from the tripod when moving it.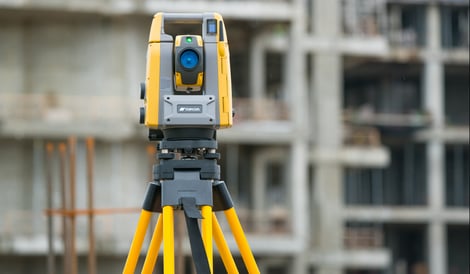 Final Thoughts
While total stations can be a significant expense, they deliver on the investment. They produce more accurate and detailed measurements and maps than any other instruments.
Contact us today. We can help you select the right total station for your business.
AGS offers equipment RENTAL for all Topcon Total Stations in our inventory. Contact your account manager today for more information & our latest rental rates!
sources: TopconPositioning.com; Bob Lanik