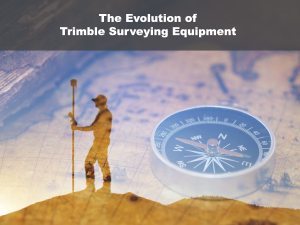 Trimble™ surveying equipment has always been at the forefront of the GPS survey equipment market. Since it began in 1978, Trimble™ has implemented GPS technology into its surveying equipment to provide customers with the most technologically advanced and effective products. The following timeline of events illustrates just how influential Trimble™ has been in introducing GPS survey equipment into the surveying equipment world.
The First GPS Satellite (NavStar) is Launched
The first GPS satellite was launched in 1978. Coincidentally, this was the same year Charlie Trimble and two representatives from Hewlett-Packard founded Trimble™ and began creating Loran ground-based navigation surveying equipment. Charlie quickly realized that GPS technology would soon be changing the world and decided it best to look into creating GPS survey equipment.
Trimble™ Introduces the First GPS Survey Equipment for the Offshore Oil Industry
In 1982, offshore GPS survey equipment was taken to an entirely new level when Trimble™ introduced the world's first commercial scientific research and geodetic survey products based on GPS. This forever changed the way surveying was done on oil and gas offshore platforms and ironically introduced GPS to mariners.
Trimble™ Surveying Equipment Grows and Expands its Products
From 1984 to 1990 Trimble™ surveying equipment products became more advanced and grew in number. During this time, Trimble™ received its first issued patent for advances in GPS technology. To date, Trimble™ has now received over a thousand of these issued patents. It also was during this time that Trimble™ began to acquire more companies, which would soon lead to more growth in Trimble™ surveying equipment technology and product number.
Trimble™ Becomes the First GPS Company to go Public
In 1990, Trimble™ became the first GPS Company to go public when it offered stock on the NASDAQ. This was also a year when Trimble™ began to focus in on increasing GPS technology by integrating it with communications. The goal was to allow people the opportunity to locate everything on earth and be able to communicate at the same time. It was revolutionary in regards to surveying.
Trimble™'s GPS Technology Reaches New Levels
From 1992 to 2000, Trimble™'s GPS survey technology advanced in never before seen ways. Some of them are:
• Real Time Kinematic (RTK) Technology- allowed moment-by-moment GPS updates while on the move
• A GPS Receiver Small Enough to be Integrated on a PC card
• A "plug and play" GPS sensor for laptops and PDAs
• A combination PDA, wireless phone, personal navigator, and digital camera
Trimble™ Join Forces with Multiple Companies
Trimble™ and Caterpillar joined forces in 2002 and began to develop guidance and survey equipment for earth moving machines in construction. Trimble™ also joined forces with Nikon, Spectra Precision Group, and Tripod Data groups. When combined with these companies, Trimble™ surveying equipment would change the way the surveying world worked at all levels. This time period marked the beginning of Trimble™'s growth that we still see today. To date, Trimble™ continues to form partnerships with global leaders in survey equipment technology to create the best surveying equipment in the world.