Advanced Geodetic Surveys Inc. is proud to announce that we have opened a location in Odessa. This is a wonderful move for our company and we are excited to be able to serve our customers in the Permian Basin. AGS is committed to providing our customers with superior service. We work hard to support our customers and offer you technical solutions that work. No matter the obstacle you face, we are here to help.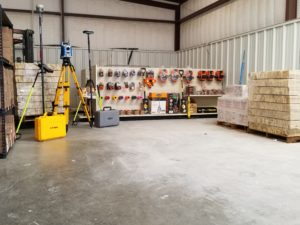 We value our customers and we strive to meet your GPS surveying and mapping needs. Our staff has a combined experience of more than 135 years and we've been in operation since 1991, so you know you're in safe hands.
At AGS, we live by our company motto "It's the service after the sale that counts!" We're not just here to sell, we're here to provide a solution you can rely on and we are proud to be able to bring our services to West Texas.
Projects in Odessa Demand Surveying Supplies at Reach
There are currently multiple projects going on in and around the area and it makes sense for us to have a location here. In fact, there is a large pipeline that will be extending from Pecos to Big Spring and many surveyors are now passing through the area.
Our Odessa location is a one-stop-shop for surveyors to pick up any supplies they may need. Many of our customers are on their way to the locations near here and our location serves as the center point for all of your supply needs.
Our team has identified a need for our strategic location in West Texas. This not only makes life easier for our existing customers but also on any new surveyors that come into the area as well.
Shop Our Large Selection of Survey Equipment & Supplies On Site
At AGS, our focus is on making sure that local surveyors have all the products and supplies they need to perform their job. It's not uncommon to hear that a surveyor is in need of last-minute supplies, so it makes sense that we have these important items.
Some of the products we carry paint, wood, flags, Trimble & Spectra Precision equipment as well as brand names like SECO and much more. We have all the major products needed for local surveyors to work on the pipeline.
We offer fast deliveries, which is ideal for local surveyor. We are able to get to our customers quickly with the required supplies.
We place our customers' needs first and we strive to provide services you can rely on.
Our Odessa Survey Supplies Location and Business Hours
We welcome you to visit the Permian Basin Store here in Odessa. We are located at 1905 East 7th Street in Odessa, TX 79761. You can reach us by telephone at 877-755-4680 or 806-891-8886.
Our store hours are Monday through Friday from 8:00 AM until 5:00 PM.
We look forward to providing you with all your mapping and land surveying supplies you need and building a strong, long-lasting relationship. https://www.agsgps.com/supplies